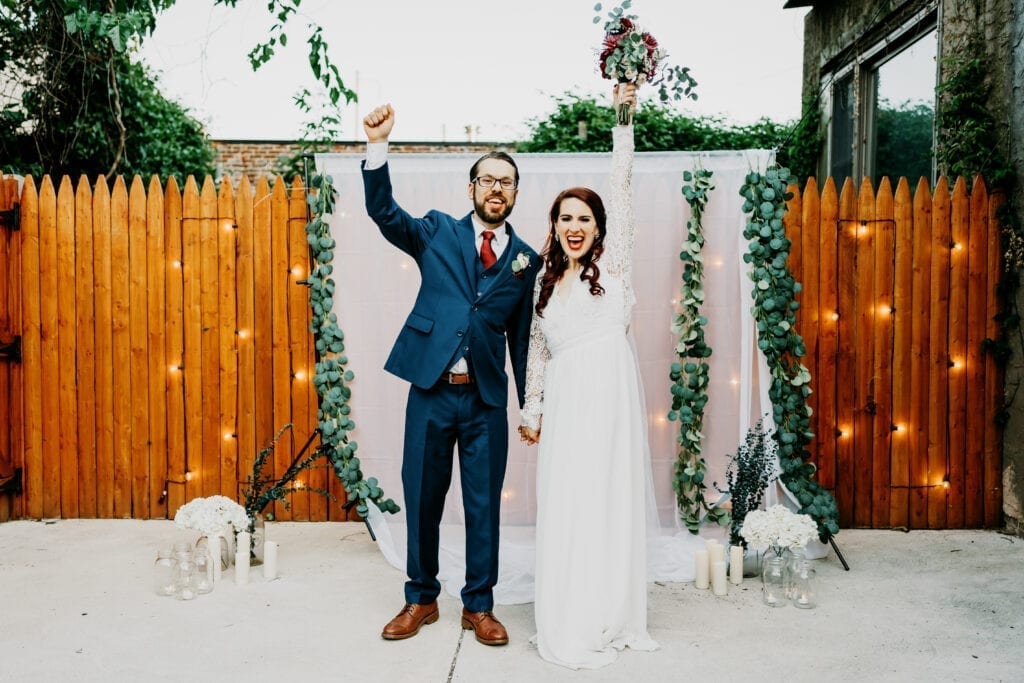 A Philadelphia Wedding During A Pandemic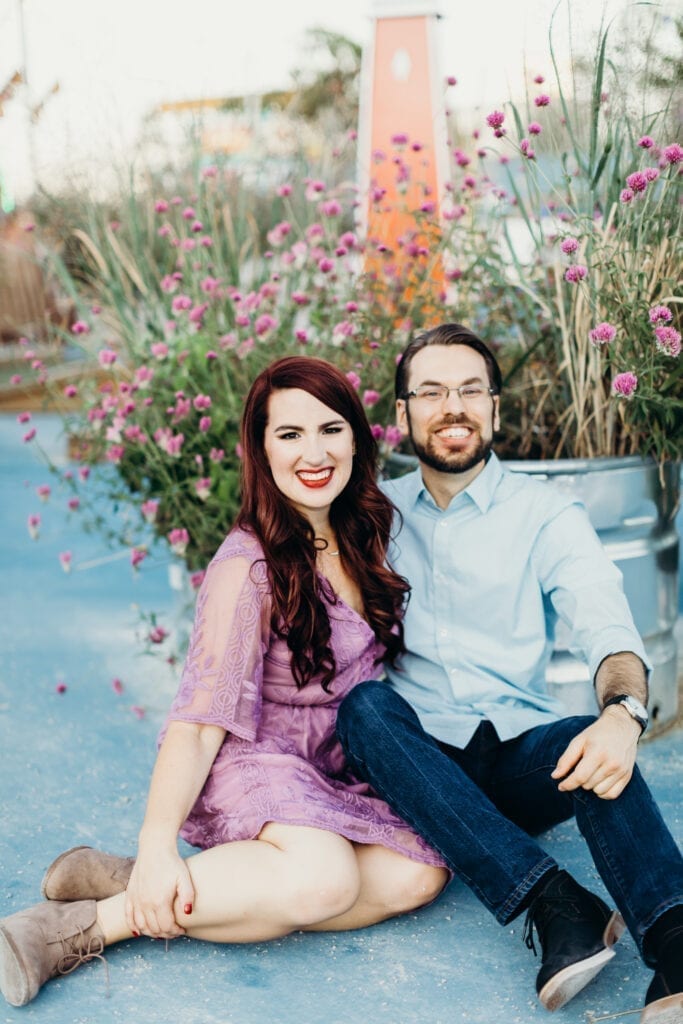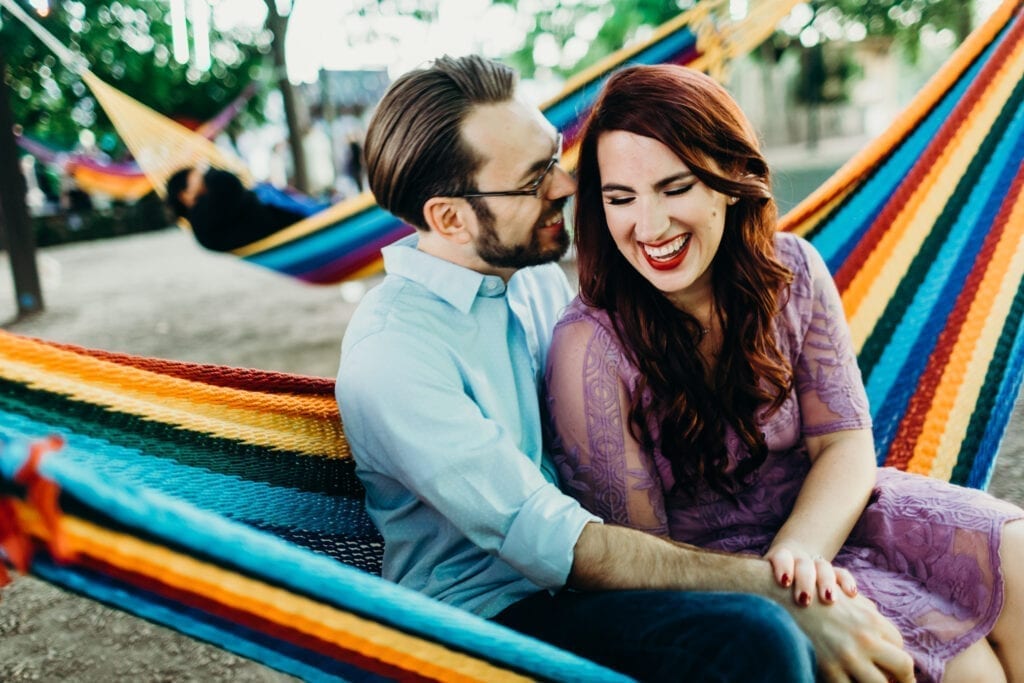 Dave and Michelle had a wedding during a pandemic and it was beautiful and memorable. They are truly an amazing couple. Both are kind, considerate, sweet people. Their love shines through when you see them together. Bella Angel was fortunate to work with Michele for her engagement shoot and then again for her wedding day. When we met Dave and Michelle at their home we felt an instant connection. We also felt it was a marriage made in heaven. Michelle and Dave are truly an amazing couple. We really can't say enough about them.
Dave and Michelle met online through Coffee meets Bagels. They met in June of 2015 for a first date at Spruce St. Harbor Park. What a great place for a first date, so beautiful and super fun. After grabbing a drink, they spent three hours talking as if they have known each other for a lifetime. They both shared a passion for travel, photography, music, and discovering new food. Michelle fell in love with Dave's kind heartedness, playful nature, in addition to his attentiveness as a partner. Dave fell in love with Michelle's compassionate nature, dedication to activism, and willingness to explore new things. Indeed, they make a perfect couple.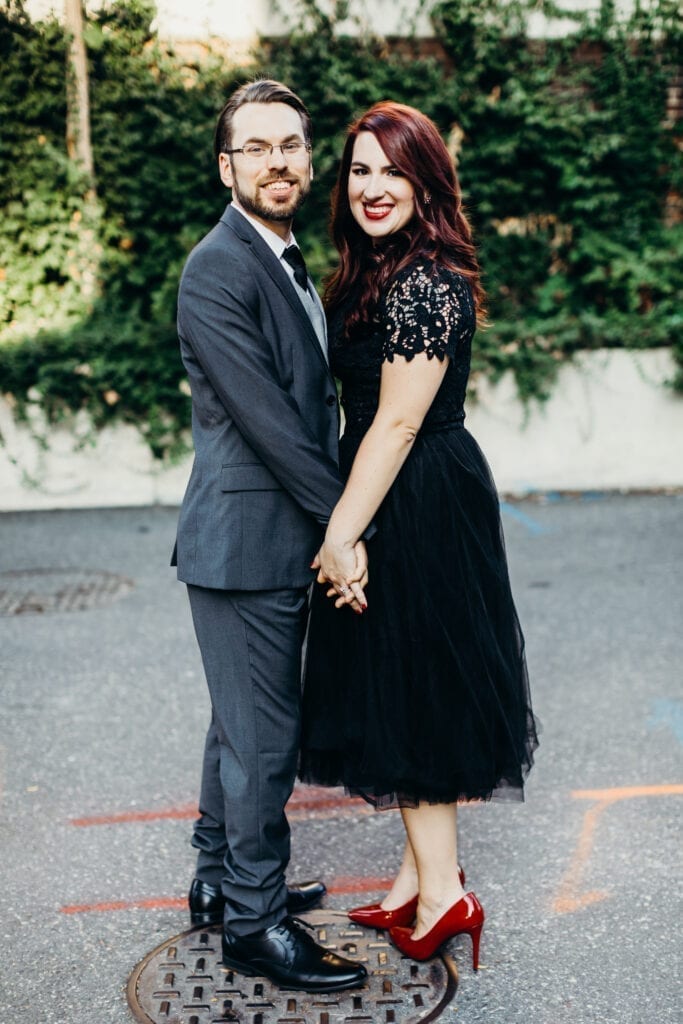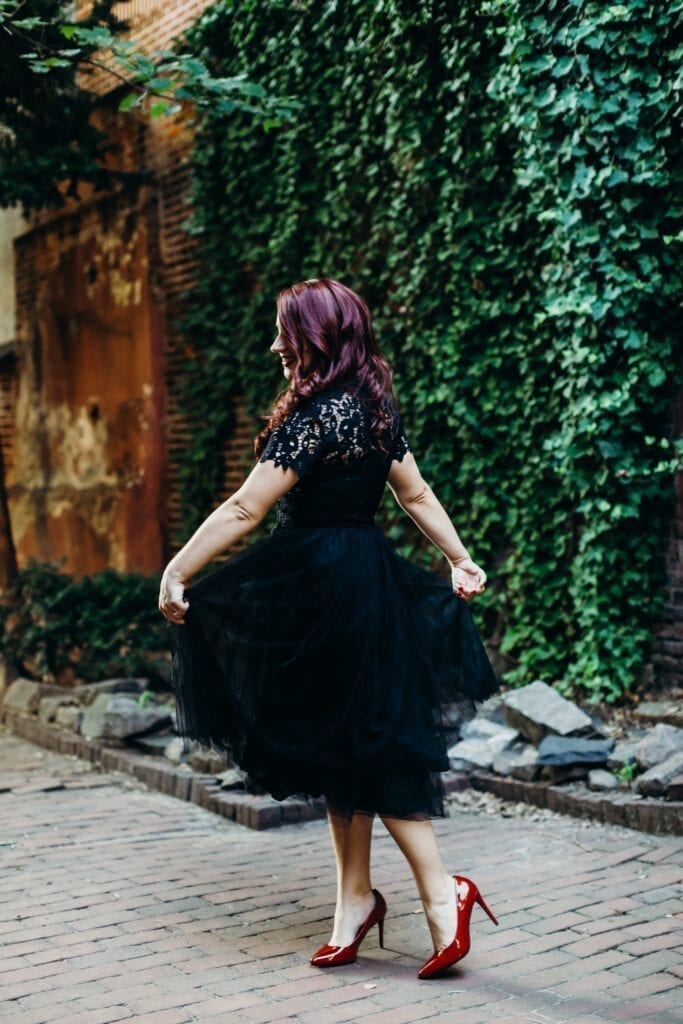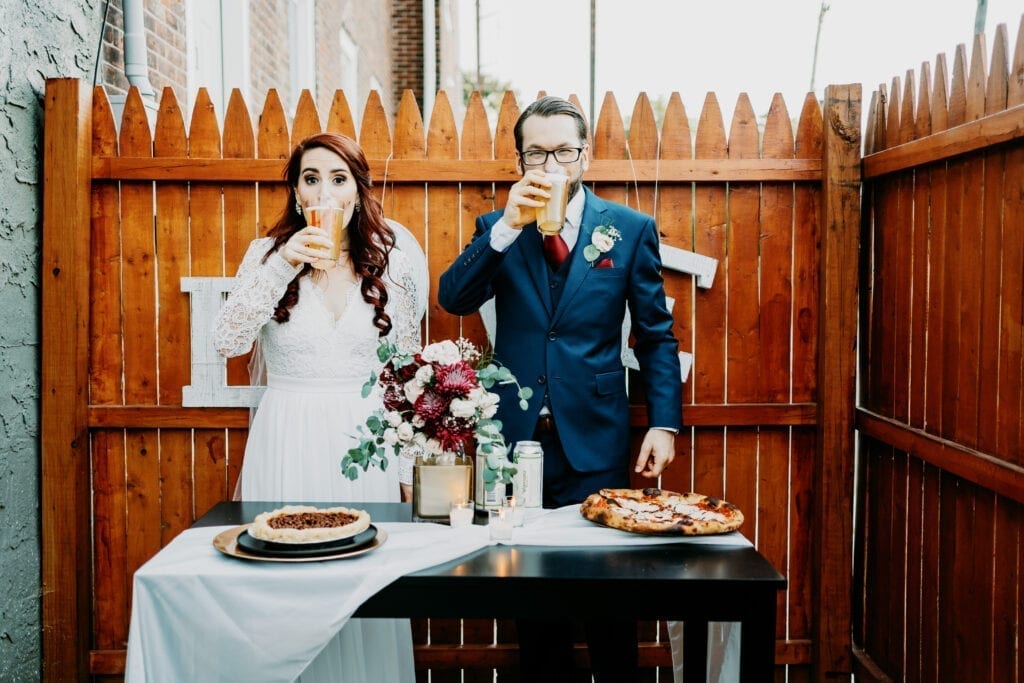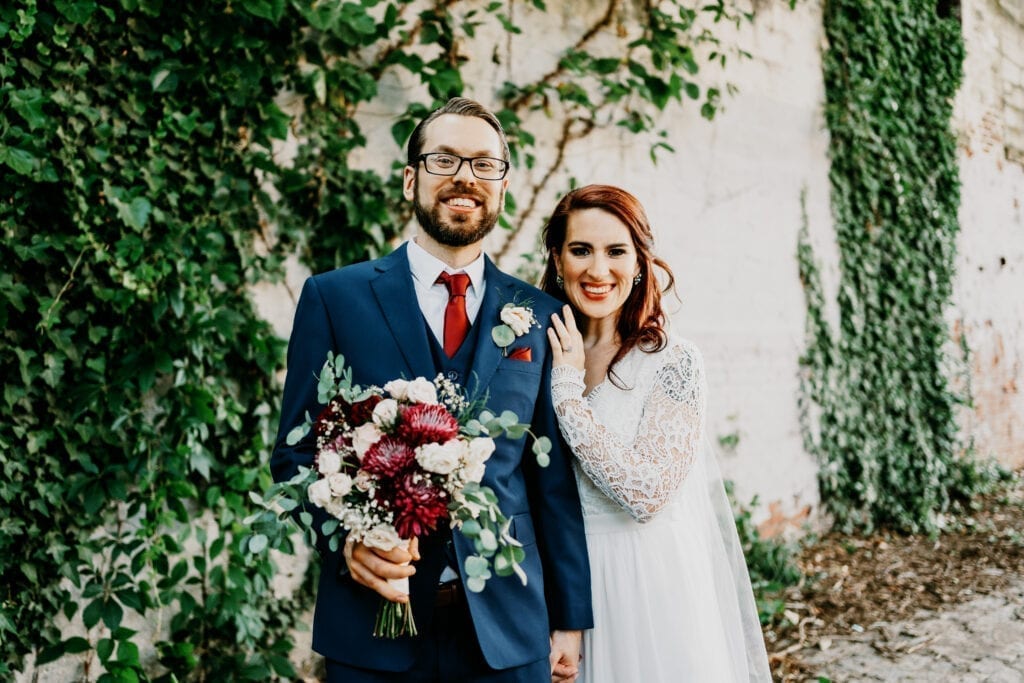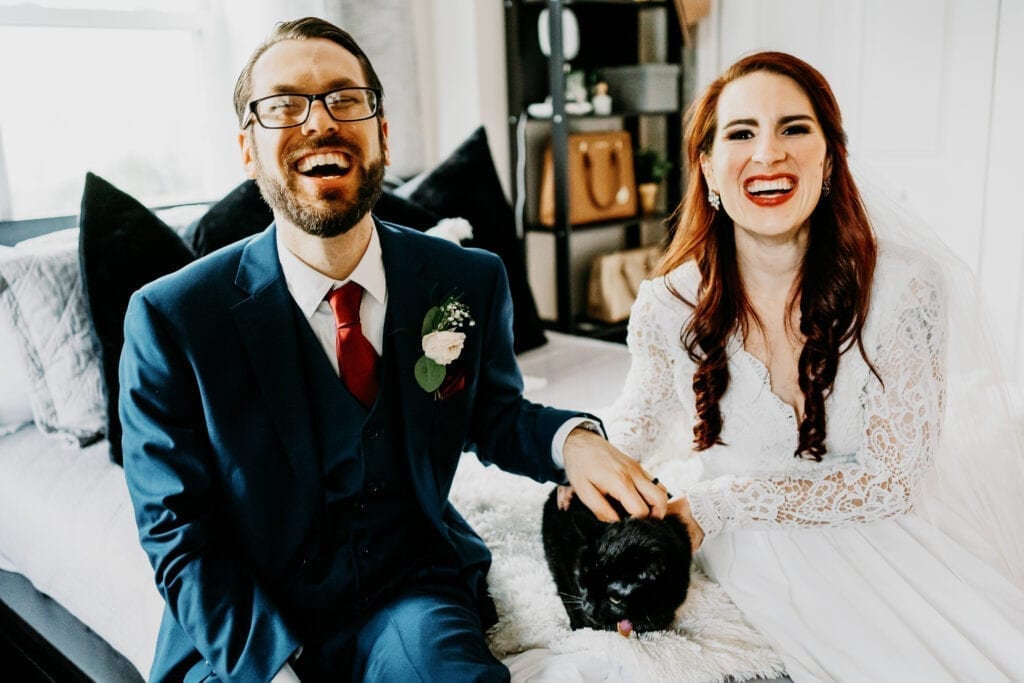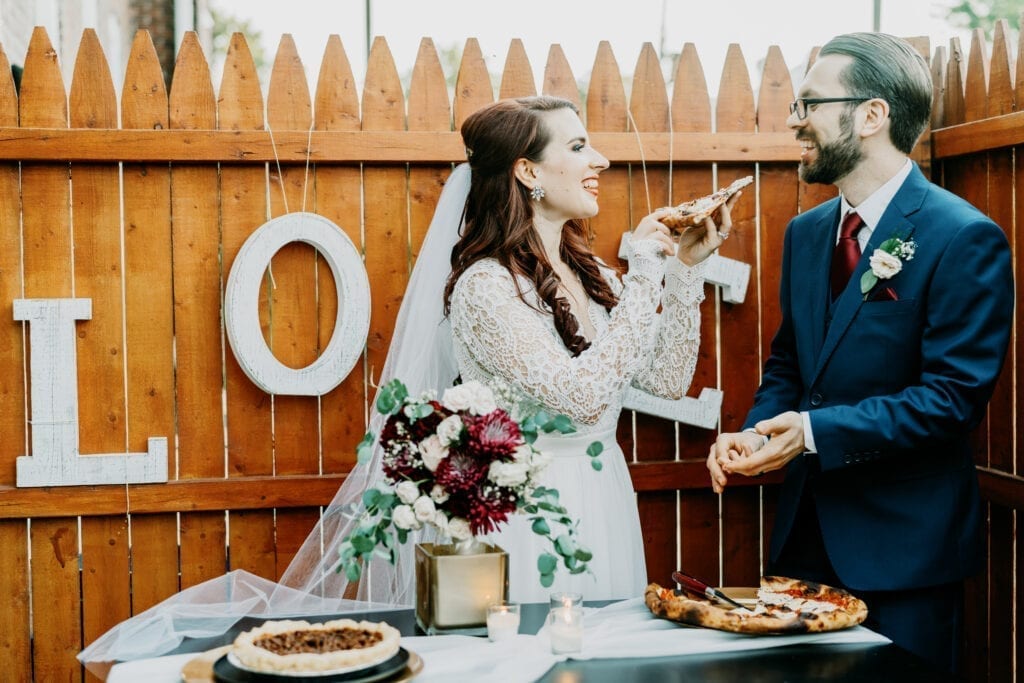 The Wedding
They got married during a pandemic, which changed a lot of their plans around.
Dave and Michelle had originally planned to elope at city hall in an intimate ceremony with their parents, siblings, and grandparents. However, when the pandemic hit and city hall shutdown, they had to rearrange their plans. Because of social distancing recommendations and the fact that their families do not live locally, they decided to host the wedding ceremony at their beautiful home in West Philly. They kept it intimate and invited a few local friends to celebrate with them. Michelle said, "We were incredibly thankful to our friends for pitching in at a moment's notice to set up the decorations, and to our vendors for their flexibility in accommodating our ever changing plans. We used Zoom to allow for loved ones to witness the ceremony and celebrate from afar. We hope to celebrate with everyone in the future when it is safe to do so."
The beautiful bride purchased her engagement dress from Amazon in lavender. She also purchased her second dress from ASOS in black. Her style was glamorous and romantic and her hair and makeup choices certainly complimented each look. Michelle's boho wedding dress was purchased from Lulu's in white. Also, Lara Taylor did the alterations on her dress. The wedding earrings, Michelle's hair accessory and her veil were all from etsy It just goes to show you, that anything is possible. Especially if you can have a beautiful wedding during a pandemic.
Engagement Shoes: Amazon
Rings: Steven Singer Jewelers
Florist: Kendl Hommel, Meraki Florals
Photographer: Danielle Rivera, Danfredo Photos + Films
Pizza Pie: Clarkville
Pie: Flying Monkey Bakery
Beverages: Workhorse Brewing