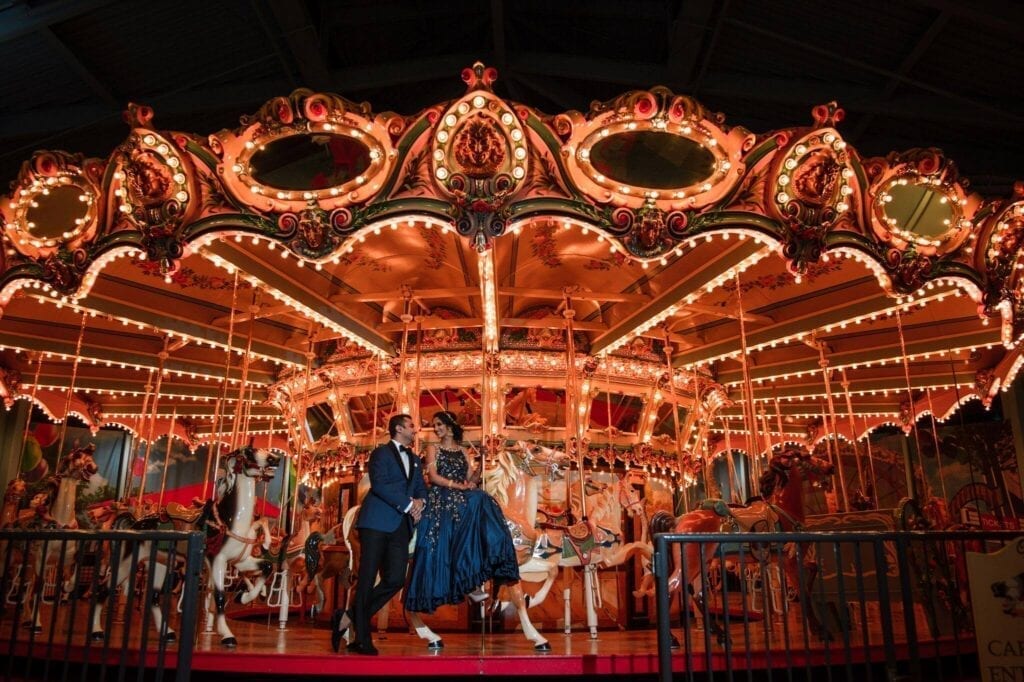 Alli and Shivan's nuptials are definitely an event you don't want to miss. They danced all night long in Philadelphia
This magnificent Hindu wedding focused on traditional in the most incredible way. You can indeed tell by the images how much fun they had. They danced all night long in Philadelphia. This wedding was one for the books for us and I am certain for everyone there.
Certainly bliss, exquisite taste, tradition, dancing and fun are the keywords for these nuptials. Alli was a glamorous bride and she was glowing all night long. She came out wearing a bronze toned saree with colors of gold and burgundy. Truly one of the most beautiful sarees we have ever seen. The bride and groom wore custom made matching colored clothes for each change. Besides that, the brilliant colors in the room and in their clothes made for an amazing contrast of color as you can see in these photos.
That was just the beginning of this incredible wedding.
First of all, dancing in the streets! They literally danced all night long in Philadelphia. A merry go round ride at Please Touch Museum. A choreographed dance by the groom and groomsmen. In addition to all of that.. there were three amazing locations. That's correct, after each event they traveled to a different location. To summarise, this was a day filled with sophistication and glamour.
Thank you to the professional team of vendors
Of course we would like to thank the great talent of Studio Nine Photography. Studio Nine provided a delightful photo shoot prior to the ceremony at the Philadelphia Marriott Downtown.  In addition, thank you for these images for this blog post. Bella Angel loved working with this beautiful family on their hair and makeup. In addition, thank you to our friends from Elegant Events Planning & Design for this day. Elegant Events did an incredible job with all the details that made this wedding a real success. Everyone looked so stunning. You can feel the fun and love when you look at these photos and we felt the fun while helping the party.
Finally, after days of fun this princess bride road off into the sunset in a horse and carriage with her prince. The guests will certainly be talking about this wedding for years to come. We would like to wish the happy couple a life full of health and happiness. Congratulations to this blessed family.
Photography: Studio Nine Photography
Venues: Philadelphia Marriott Downtown
Hair & Makeup: Bella Angel
Cinematography: Aria Films
Planning & Design: Elegant Events Planning & Design
Reception Venue: Please Touch Museum at Memorial Hall Baraat: Equishare Baraat Horses Bollywood Performers & Instructors: Arsaat Party Entertainers Invitations & Wedding Stationery: Emily Kathryn Custom Paper & Lettering Transportation: Mainstreet Leasing